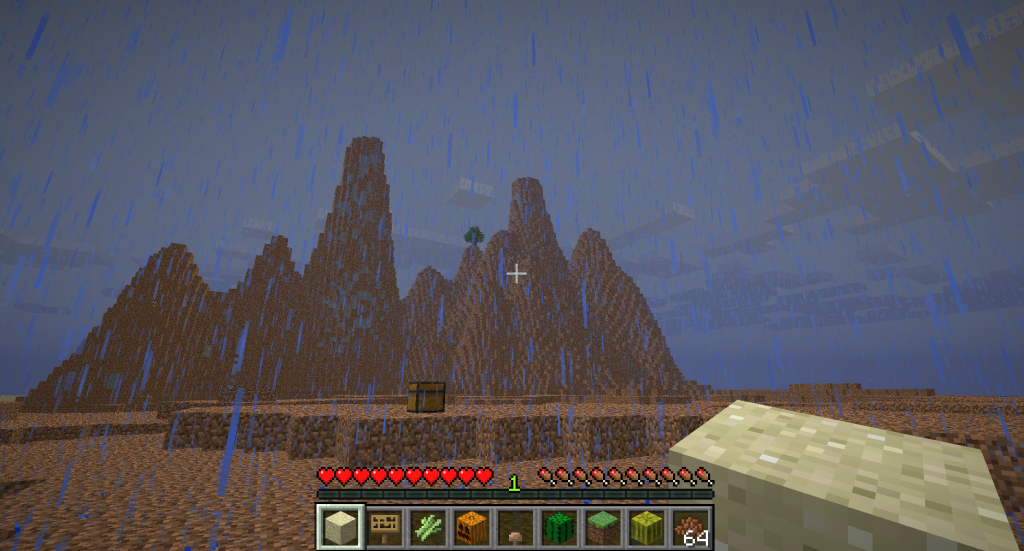 One could be forgiven for thinking that Minecraft was all about surviving on islands. In this map the island is dead and you must restore the island to life. It's a nice twist on an established theme, not only ensuring your own survival, but the survival of your environment. One might say it's a map with a message, but that would probably be going a little too far.
You spawn on the island, which is rather large but contains nothing besides dirt, sand, mountains and a couple of trees. The starting chest contains a block of grass, some sugar cane, a pumpkin, two mushrooms, a melon, a cactus and 64 cocoa beans. Just moments after spawning, it began to rain,which imparted a rather gloomy atmosphere that went very well with the whole 'dead island' theme.
What's nice about this map is that you need to travel to acheieve your goals for survival. Unlike other maps, which cramp you into a tediously small space, this one gives you all the room you could need and more. Of course, it's up to you to make that space usable. There are surprises hidden here and there, but the map relies on solid minecraft strategies rather than gimmicks. To survive you're going to need to cultivate the soil, drive off enemies and expand your holdings a little bit at a time. In many respects playing this map took me back to my very first days of minecraft when it was in alpha and dirt and wood were the staples of the game.
For an old school challenge with a fresh face, I reccomend this map.