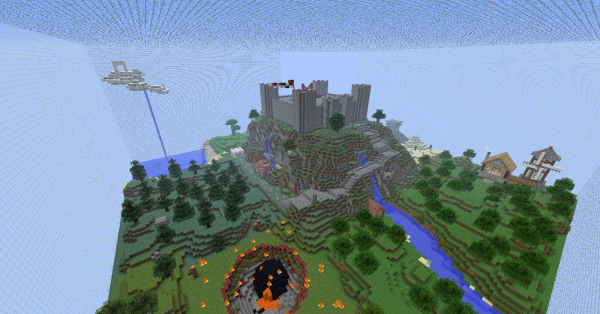 The Cubes of Adventure have returned, minecrafters! Cubes of Adventure 2 follows on from the popular minecraft adventure series of the obvious name. The object is to complete the monument, a task which can only be completed by making room for activities inside your mysterious cube. Strictly speaking, this should be called 'Cube of Adventure', but lets not split hairs or cubes.

Cubes of Adventure makes use of custom mobs, including Zombies wearing blocks on their heads which imbue them with special powers. There are several themed dungeons to explore, dungeons enhanced with redstone traps and special items. The idea of the map is to survive whilst you complete the challenges, so unlike other adventure maps which treat block breaking as if it is some kind of sin, Cube of Adventure acknowledges that sometimes you're just going to smash your way through obstacles to get to the other side of things. And that's okay, because it's minecraft. Not 'don't touch anything, I said, DON'T TOUCH ANYTHING' craft.
Download Cubes of Adventure Deux!