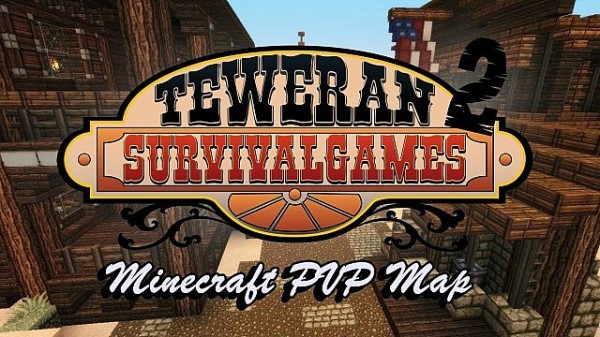 It's a PvP map.
It's a survival map.
It's a train map. With a real fake minecraft train.
But more than anything, it's a Wild West minecraft map. Yeehaw!
This map is designed for the playing of PvP survival games. Like Hunger Games, but with a little less Jennifer Lawrence. This particular map, with its Wild West theme, is particularly original with brilliant builds that will have you downloading minecraft cowboy skins before you can whistle while your billy boils. Who'll come a waltzing matilda with you? Nobody, wrong continent. Try again.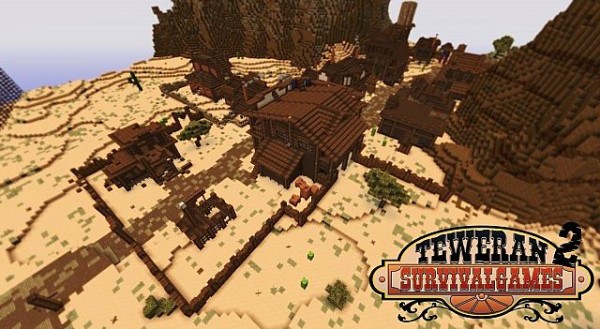 Play as cowboys and indians, play as native inhabitants at one with the land or maurading settlers at war with nature. Find the tree of ancestors (or not because again, wrong setting, that's Avatar). With custom built wigwams and a general store just waiting for a new Sheriff to roll into town you can be Clint Eastwood all day long.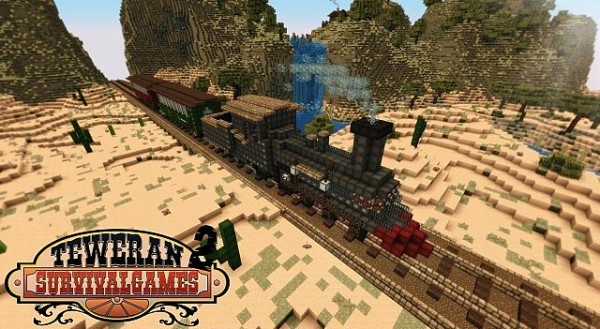 With brilliant Wild West builds, including a minecraft train that wouldn't be out of place in the Great Escape, this map is worth the download even if you've no interest in PvP, or games even. At its core, this is simply an amazingly well made map. Or, if you prefer to keep to the roots of a thing, find some friends / tributes and declare war against them in the battleground of Drybone Valley.
With plenty of traps, hidden chests and enemies to keep you on your toes (up to 23 for best effect) this quiet Minecraft settlement is soon to break into all out PvP war. Avoid the traps, or draw your enemies into them, hide deep inside abandoned mines, or proudly ride a pig across the plains. (We don't see enough minecraft PvP pigs, that's all I'm saying, mounted minecraft combat is the next logical step.)