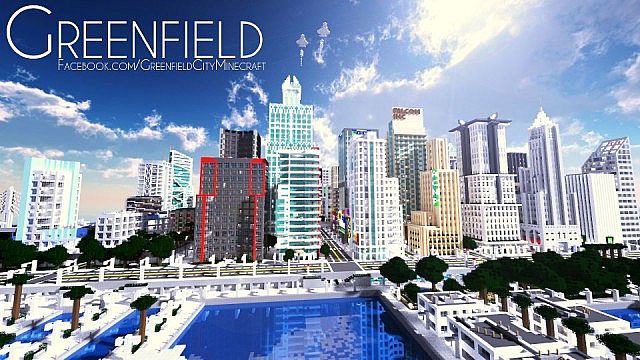 If you're looking for large modern minecraft city map download, then you have to download Greenfield – a city under constant expansion. From towering skyscrapers to subterranean subway tunnels, Greenfield is the minecraft city of the future (and present, so you can play it today.) This minecraft map has something of a Mirror's Edge feel to it. But this is not another Minecraft map based on a video game – no, it is something more exciting than that, it is a minecraft map that seems to replicate not a game world, but the real world. As a result, Greenfield feels like a real city.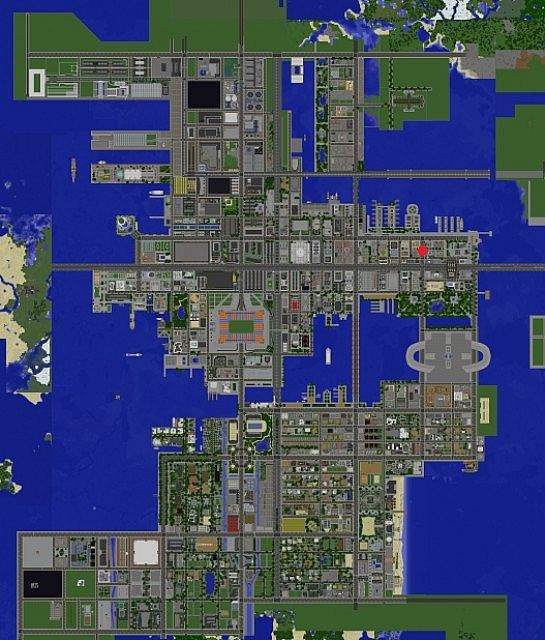 Constantly updated with new regions and comprised of hundreds of large buildings, Greenfield is a multipurpose minecraft map, suitable for use as a SMP server map, or even for a solo survival experience. You are free to roam the cities and streets at will, or you can use creative commands and fly through the city, exploring vantage points that aren't available to a player limited by gravity.
Greenfield, minecraft's most modern city, comes with a recommended texture pack. I suggest you use it, as it looks completely ridiculous with the default textures enabled. Nothing but a mass of wool and inexplicable sponge oriented redstone.
If you are blown away by Greenfield city and want to help build it, the sever upon which it is built does accept applications from new builders. That's right, this minecraft city is under construction 24/7, you can view the dynamic map which updates the city building process here. At the time of writing, Greenfield is only 15% complete, even though it seems to run forever in every direction. So if you're a budding builder looking to build your minecraft architecture portfolio, why not offer your talents?
Locations in Greenfield are soon to include office buildings, ports, a mall, a city hall and much more. This is a very exciting project, one which looks amazing today, but which will look even more amazingerer tomorrow.