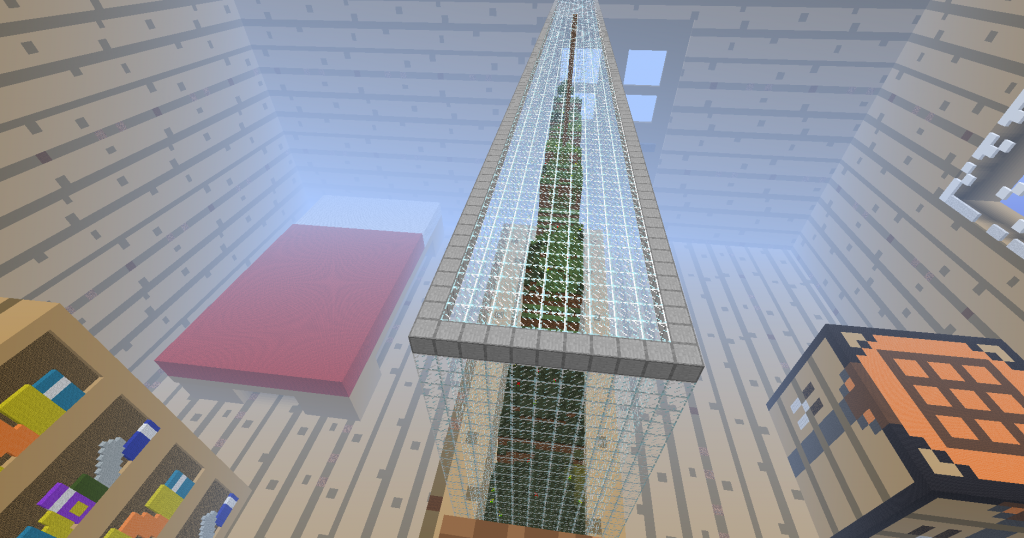 This minecraft survival map comes in the form of an oversized ant farm. Surrounded by glass on all sides, you find yourself in a room much bigger than any room you've been in before. In many ways, it is minecraft within minecraft, with a superscale build that dwarfs the player.
There have been other similar maps before, but none with the attention to detail and impressive minaturization that this map imparts to the player. You are insignificant compared to a crafting table that does not come up to waist height, but towers above you far into the distance. There is a bed, but you could fall into a crevasse in the creases of the pillow and never emerge again. Amidst all this incomprehensibly large splendor, you must eek out an existence, forever staring off into a realm of possibilities your feeble frame cannot hope to endure, let alone understand.
To survive this map you must be like an ant. You must tunnel ceaselessly, you must pass hormone markers on with your antennae and you must be able to carry several times your own weight without complaint. If you can't do that, this map might not be for you. Or it might be. Who am I to judge.
PRO TIP: If you load this map and find that the walls are bedrock, that's because the walls are bedrock retextured to be see through. You must use the texture pack associated with the map in order to get the full effect.