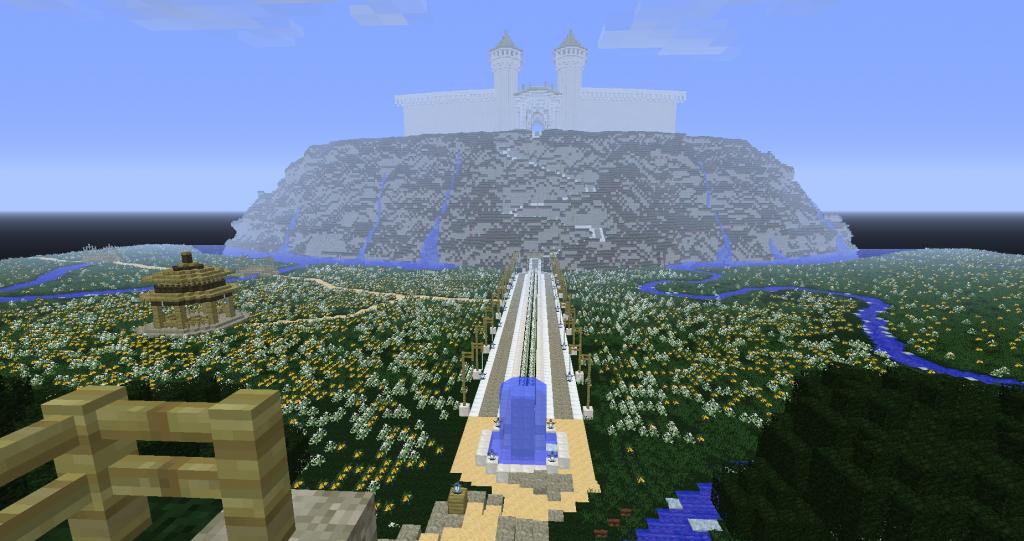 Created by the Minecraft Middle-Earth Adventure Team, this is aserious minecraft adventure and survival map. Serious business. It's such serious business that it comes with an entirely separate (hand drawn, LOTR style) map and a texture pack. It's also a huge download. If you're sick of little tiny minecraft survival maps with a few blocks of dirt to play with, then this is a map you must play.
What can you expect? You can expect to be blown away by the scale of the build for starters. They've truly created a whole world for you to inhabit. I'd advise using the texture pack because it adds a whole level of atmosphere to the map that doesn't exist – and although it is 16x, it's also impressively detailed and styled in a way that will blow your mind.
All this amazingness comes with some restrictions. Because they've spent many months creating this epic map, they don't want you messing it up with your ideas. So you're not allowed to build or even place blocks. Anywhere. (Aside from beds, they'll let you have a bed, as long as you seem sufficiently grateful.) You're not allowed to craft anything besides armor and swords. If you insist on going off trail, the creators warn you that you'll soon be lost and miserable.
Is there a story? Yes, there's a story. Tolkein fans can't resist stories. Long stories. Stories that might have some sophorific effects. This isn't a map for anyone who wants a quick self directed playthrough. This is a map for people who want to get deep into something that has been created for them by a team of people who clearly take some serious pride in what they do.
Click here to download The Fall of Gondolin Adventure/Survival Minecraft Map