Want to download minecraft TF2 mods? Play on a minecraft TF2 server, or simply download a minecraft TF2 map to play on your own! Here are all the links you need.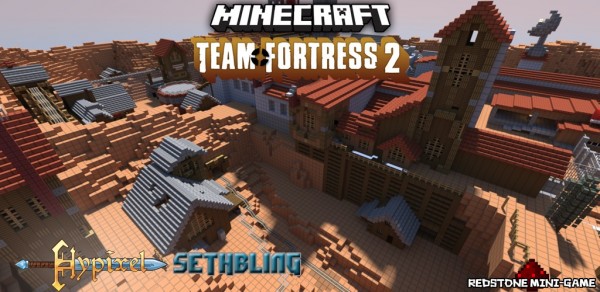 The most famous of all the minecraft TF2 maps is the TF2 Dustbowl map, put together by Seth Bling and Hypixel. This map is effectively a redstone game designed for 6v6 or 12v12 play. This map requires no mods at all to work, and includes eight unique player classes, each one geared to suit. Minecraft Heavies and Minecraft Scouts and Minecraft Snipers and Minecraft Medics and Minecraft Soldiers and Minecraft engineers rejoice!
Download the original TF2 Mincraft map here!
Team Fortress 2 Mod for Minecraft
Maybe you want to make your own Minecraft Team Fortress 2 map, but want it to operate realistically. The Minecraft TF2 mod takes care of that, allowing you to craft turrets and carry about wrenches, and set up sentry guns and teleporters and that sort of thing.
Official Minecraft TF2 Server Site For TF2 Minecaft multiplayer fun, visit the 'official' MC TF2 server site and join hundreds of other Minecraft Team Fortress players.