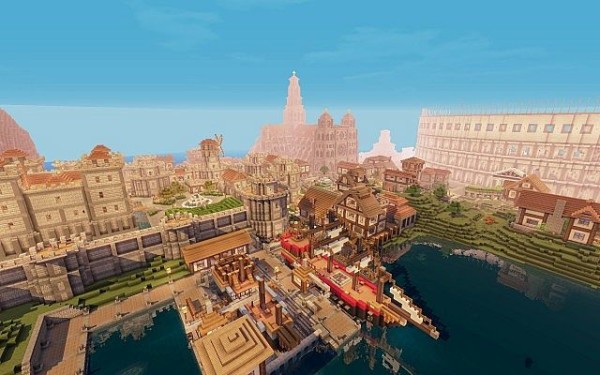 A fully developed minecraft fantasy world, Guruth's world isn't terribly well named, but it is incredibly well built. What separates this minecraft fantasy map from others in the genre is the fact that it isn't just a superficial collection of buildings which more or less emulates a city. It's a fully planned city simulation complete with waterways, streets, and a layout that makes sense. It's a city that feels organic, as if it has grown with a real population.
Features of the city include:
A minecraft colluseum / arena.
A fully developed port, with ships sitting in dock.
Custom terrain lands surrounding the city.
Greek style temples in the hills.
Castles.
Mansions.
Farms.
Farmlets.
Dark obsidian palaces.
Common houses.
Gardens
And more!
Perfect for your SMP server, or for exploring in your downtime, this is one of those minecraft maps that really speaks to the untapped capacity of Minecraft. Whilst most of us are sitting around building big stone boxes, there are builders creating objects of architectural beauty that put actual architects to shame.