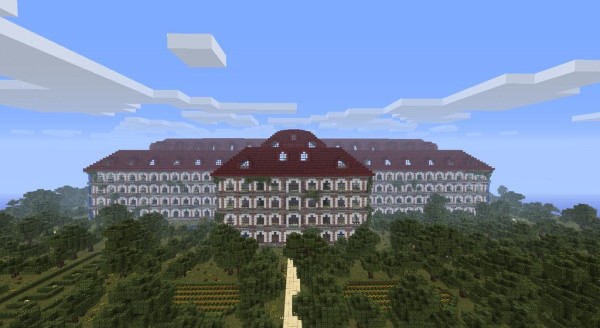 Want to explore a large, abandoned old mansion? Of course you do. This minecraft mansion has over a hundred rooms, each left to the whims of nature. The old grand halls are empty now, but for you. There's something very 'The Shining' about this minecraft map. It's not strictly a Shining Minecraft Map, but with a little imagination, it possibly could be. There are extensive and somewhat overgrown grounds to explore as well, including a giant tree which has no doubt been growing since before the foundations of the mansion were poured. There's also the family mausoleum to visit, a gazebo nestled amidst flowering trees and many more fascinating little nooks and crannies.

Don't let the stuffy outward appearance of this minecraft mansion fool you, there are many treasures and surprises to be found within. With eleven separate floors (including the basement and what lies below) the map sometimes feels endless and just when things are seeming to be uniform and boring, something unexpected happens. Rather like life.
Because the mansion is set up as a fully functioning home (complete with potential farm) it is possible to revivify it with a few refurbishments. Why not add some furniture, clear away the cobwebs and make this mansion your own? If you open this map up to multiplayer, the mansion would make a fine base, perhaps for a PvP faction, perhaps for a group of gentlefolk ready to wreak greatness upon the world.
The only possible criticisms of this map are that there's no incumbent story. This minecraft mansion is like a blank greeting card – it can say anything you want it to say. There's also the small matter of the fact that at first it appears that this map has been built on a superflat world, which leaves little scope for exploration of the world beyond. Pro tip: if you go out the back of the mansion, you'll find naturally generated minecraft terrain rising in the distance. Let the adventure begin!