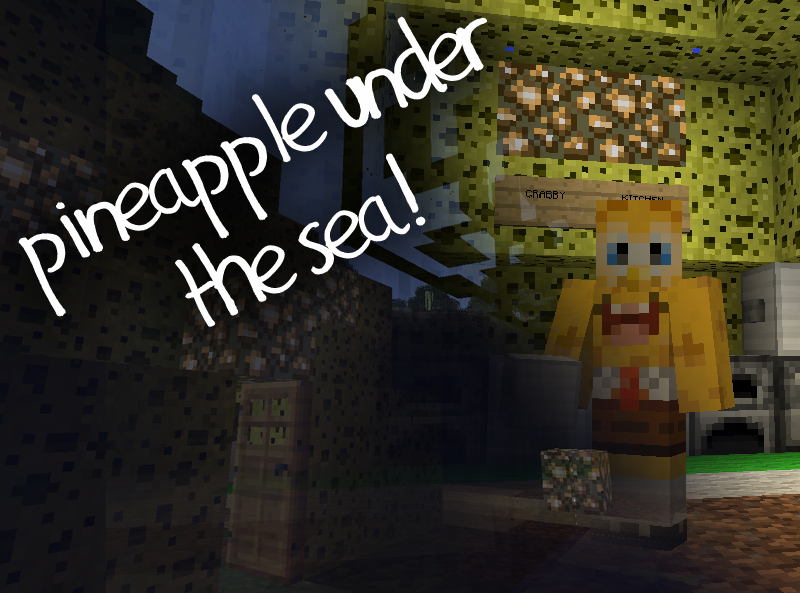 Who lives in a pineapple under the sea? Stevebob Squarepants!
Can you survive inside this little yellow pineapple at the bottom of the ocean? Though the water presses down oppressively all around you, you do have one little pocket of survival potential in the form of your stylish pineapple home which comes with all the mod cons, including one sponge-bed and two fully automated sponge-fridges.
Surviving this map will depend on your ablity to tame the ocean floor, whilst making friends with all the little critters you meet along the way, even the ones that go boom.
Spongebob minecraft skin can be downloaded here!

Download the map here! (Mediafire, no ad.fly.)
Want to rant, rave, or otherwise join the discussion on this map? Visit the official minecraft forum thread!
Rules!
No going to the surface. Players who do so will be used to wipe kitchen counters for the rest of time.
Play on normal or harder.
Challenges!
Build an aquarium for a pet squidward.
Build a farm and grow each of the main minecraft crops for a well balanced diet.
Spawn cows for crabby patties.
Bake a cake for your birthday.