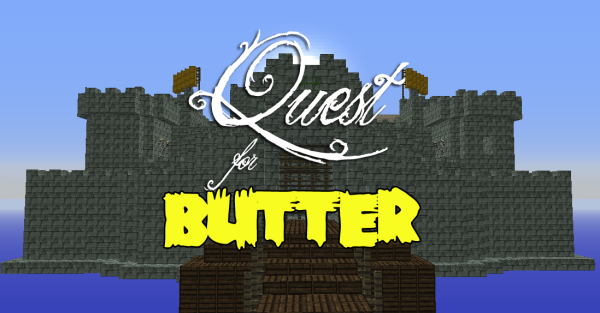 Four butter blocks have been hidden. Clearly the only thing to do is to go and find them and bring them together so that a locked door can be open. For all that is locked should one day be opened. (Unless we're talking about that safe in Auckland, New Zealand, which may never be opened.)

I liked this map immediately, not just because it was butter-centric, but because it allowed for cheating in cases of being terrible at parkour, which is good because I can't parkour in minecraft any better than I can in real life.
The Butter Castle, as I like to call it, acts as a central station of sorts. From the castle you can visit the XP store, discover storylines and have yourself ported to various levels in the map. Each level brings with it new challenges, and comes in various modes, so you can choose whether to take the easy way out or battle things out to the bitter end. When you do finally find all the blocks of butter, even more excitement awaits. And by excitement, I mean something larger and more terrible than anything that proceeded it. That's how adventure works, things getting worse all the time until they sort of get average again.
This is a fun minecraft adventure quest map, a little bit parkour, a little bit puzzle, a little bit big blocks of buttery gold. People who enjoy upgrading gear will enjoy the XP based shop, and people who enjoy boss fights will enjoy fighting the final boss. This is a minecraft adventure map designed, for the most part, to be played with one player, which will come as a relief for solo players who are tired of minecraft maps encouraging them to have so called "friends". If you like to play with others, you can open it up on your multiplayer options and clamber over one another to get the butter. Whatever sounds like fun to you.