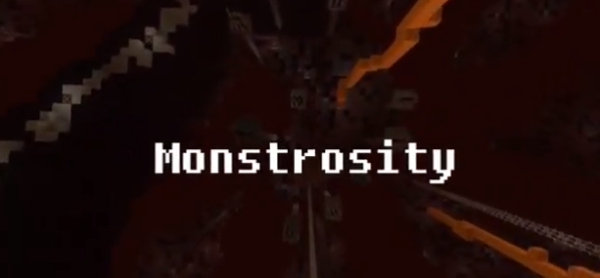 This creepy, custom-monster filled minecraft CTM map will have you shaking in your diamond boots. Developed by coldfusion, the map contains sixteen unique locations, a bunch of custom mobs and plenty of custom armor.
From the outset, the map is challenging. I chose the easy setting because difficulty makes me whiny. Then I fell into lava and realized I'd have to re-start the map because all the starting items had burned up. This is the nature of the map. If you don't watch where you're going, if you assume that the ground is solid, then you'll be punished for that.
The custom mobs don't take long to make an appearance, and they certainly make life difficult, especially for players who prefer peaceful settings. Peaceful isn't an option on this map, though I rather wish it was.
This is not a CTM map where you'll complete the monument just by digging around a bit and opening a few chests. This map demands that you work to complete the monument, nothing is given easily or lightly and the death counter included in game will soon be ticking over as you try to orient yourself in the strange and very dangerous landscapes.
The map maker boasts that this minecraft map was made with evil – and he's probably right. The first level alone is enough to drive you somewhat mad with fear as you loop about ruins, facing down zombies and creepers as you collect gear and look for a way out in a cavern that seems to have no exits.
Remember to craft, that's all I can say. Although the builds may make this feel like an adventure map, crafting is allowed and it is the only thing that will save you. Gather resources and fight for survival. Live for the monument, not for the moment, and you might just have a chance.